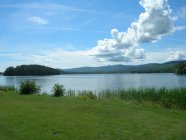 Brighton is a small, picturesque town in rural Essex County, Vermont. Within Brighton, the unincorporated village of Island Pond serves the community and economic center, as it has throughout Brighton's history. Situated halfway between Portland, Maine and Montreal, Quebec, Brighton was once a thriving railroad town.
The village of Island Pond is situated along the shores of the similarly named 600-acre lake with a 22-acre island. The town lies approximately sixteen miles south of the Canadian border and 23 miles southeast of the City of Newport, Vermont. Surrounding Brighton are towns and unorganized towns of similar shape and size: Morgan, Warren Gore, and Avery's Gore to the north; Lewis and Ferdinand to the east, Newark to the south, and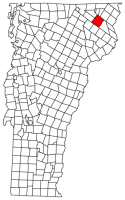 Westmore and Charleston to the west.
The Town was organized in 1832. There is a historical marker in Island Pond noting that the village is the meeting place of the first international railroad. One end of the railroad was started in Portland and the other in Montreal, and they met in Island Pond in 1853.
While the railroad remains a key economic factor for the Town today, tourism has come to play an important part in the economy. Brighton is a small rural town blessed with striking natural beauty and an abundance of natural resources that have benefited residents and attracted visitors for many years. It is also known for its extensive snowmobile trail system.